Perennial Morning Glory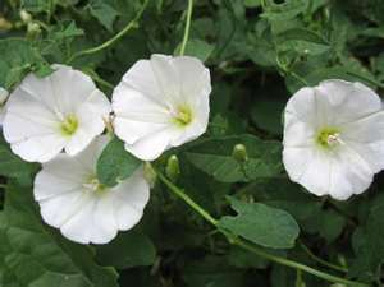 Perennial morning glory is a deep-rooted vine commonly found throughout the western United States. It is one of the most difficult weeds to control. The spade-shaped leaves have rounded tips and can vary in size. The flowers are bell or trumpet-shaped, white to pink in color, and they are usually present between June and September. Morning glory commonly climbs over shrubs and other ornamentals, and its growth habit allows it to choke out sections of lawns and gardens. Morning glory has the ability to spread by both seeds and roots.
Perennial morning glory is difficult to eradicate because of its large, fleshy taproot which can penetrate into the soil to a depth of ten feet and repeatedly gives rise to numerous long rhizomes (secondary underground lateral shoots). Morning glory seeds can remain viable in the ground for up to fifty years.
Herbicide treatments in the spring and early summer, when the plants are actively growing, can lessen the severity of this broadleaf. Early or late fall applications made after the perennial morning glory plant has flowered are very beneficial in helping control this difficult weed. Perennial morning glory cannot be controlled by hand-pulling or hoeing.
The Green Pointe staff is always ready to assist you with your lawn. Please call if we may provide any information to enhance your lawn's health or appearance.
Please call our office if you have any questions or visit our "Questions" page to review other frequently asked questions and answers. (801) 261-1171