Our Guarantee
Compare Services & Guarantee VS. Price Before Choosing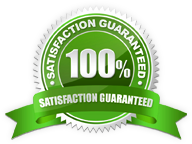 When selecting a lawn care company, please take a few moments to compare service and price. As part of our annual lawn care service program, we back up our six-treatment program with a season-long guarantee. Don't be misled by other companies who may charge less per application, but require several more applications per season be applied, in order to provide you with a seasonal guarantee. This can result in a more expensive annual program cost, despite their less expensive per-application price. Why pay for several more applications if you don't have to? Do the math, add the total annual application cost of our service vs. the other companies annual cost.
At Green Pointe Lawn Care, our standard annual lawn care program includes six (6) seasonal fertilizer applications, spring pre-emergent crabgrass and spurge control, broadleaf weed control, and an application of liquid iron included with the late spring treatment at no extra charge — all backed by our season-long guarantee. If problems or questions occur between treatments we're just a phone call away.
We also spray the broadleaf weeds in the cracks of residential drives and walks, and blow the walkways clean of granular fertilizer if applied. We include these additional services as part of our annual standard program at no extra charge!
Our Guarantee
Green Pointe Lawn Care is committed to providing service that will meet or exceed your expectations. If for any reason you are unhappy with the results of a lawn care treatment please call our office within 30 days and we will return to address the problem. If necessary we will re-apply the ineffective portion, or the complete application at no charge. In the rare case we cannot correct the problem we will refund the price of the treatment. This guarantee is based on full, uninterrupted  annual service programs.
Service Call
Please allow two weeks for each treatment to produce results. If after that time you have a concern regarding the results of a treatment please call us! We will return and diagnose the problem. If the treatment is found to be ineffective we will retreat your lawn at no additional cost. If the problem is a result of improper maintenance, cultural practices or other factors beyond our control we will provide professional consultation and instructions to minimize or prevent future occurrences at no charge. These services are unlimited and provided free of charge to our lawn care customers that have scheduled and follow a continuous and uninterrupted annual service program.