Necrotic Ring Spot Special Watering
SPECIAL WATERING AND CARE INSTRUCTIONS TO HELP IN THE CONTROL OF NECROTIC RING SPOT (NRS)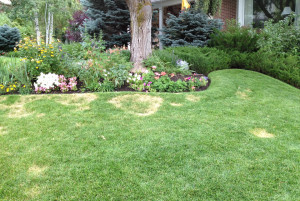 If your lawn has Necrotic Ring Spot problems, changing the way you water your lawn has been helpful in aiding to control the disease. Watering daily for shorter periods is necessary to help control Necrotic Ring Spot (N.R.S.) Ring to Green soil treatments, routine fertilization and changes in watering methods and times have proved helpful in the control of NRS. This disease is a disease of the soil and treating the soil and managing soil moisture is key in managing the incidence of NRS.
Setting your timer:
The amount of time to water varies based upon fixed or rotating sprinklers, pressure, soil types etc. the times shown below are only for example.
Reducing the amount of water applied is needed, if it does not result in drought stressed areas. You may want to try to reduce your station time (in steps) by a few minutes each step (starting with 5 – 7 minute reductions is best, try reducing from 30 minutes to 25 – 23 minutes) and see how the lawn looks.  Add or decrease time accordingly. Drought stressed and dry areas weaken the turf and reduce the recuperation and vigor of turf grass. If reducing the watering time results in dry areas, increase watering slightly (3-5 minute steps) to avoid dry areas due to reduced watering time. If possible and very helpful, spilt your watering period into two cycles (split cycles); for example if you normally water for 30 minutes per station, adjust your clock to run two cycles for 15 minutes each. This will also help reduce runoff as water has a chance to soak in between cycles. Not every sprinkler timer allows split cycles, but it is encouraged and helpful if your timer allows split cycles.
When to water:
Begin your watering cycle early enough in the evening to have the watering cycle completed by 2:00 A.M., this is very important.  For example if you have 4 stations each set at 30 minutes, you have a total watering time of about 120 minutes (2 hours). If you were to begin watering at approximately 11:45 P.M. (adding a few extra minutes to allow time for the valves to shut off and restart and normal pauses in the cycles) the water period would be complete by 2:00 A.M..  This allows extra time for the soil to begin to dry out before the next watering cycle. Avoid watering during dusk and daylight hours.  Remember, if absolutely necessary, it is better to water at anytime then it is to not water and cause drought stress to the turf.  The watering information shown here is to help in control of NRS and is different than watering information for lawns not affected by Necrotic Ring Spot.