Late Season Lawn Fertilization Winterizer Application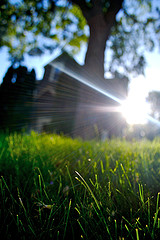 Late season fertilization provides added nutrients that help your lawn emerge from winter dormancy as a more stress-tolerant plant, and encourages earlier spring green-up. Cool season grasses common to Utah, such as bluegrass, benefit tremendously from a winterizer application. Lawn winterization also promotes a healthy root system, which in turn facilitates the lawn's ability to store nutrients for winter.
Late in the fall, after the leaves have fallen from the trees and after the last mowing of the season, cool season grasses are still very active and will continue to absorb and store needed nutrients well into the winter months. The prevalent uptake of nutrients needed by these grasses to emerge from winter dormancy, such as nitrogen uptake for root development, are absorbed during the late fall season.
University research has found that late season fertilization of cool season grasses encourages spring greening earlier than turf not receiving any late season fertilization. University research also indicates that increased amounts of stored carbohydrates from a winterizer application stimulates root growth in the spring.
The extended growing season experienced in Utah over the years has increased the need for the addition of a late season winterizer application. The most favorable time is typically late October through mid-December. Green Pointe Lawn Care's winterizer is applied at the optimal time to obtain maximum benefit. This highly effective treatment will prepare your lawn for the long winter months ahead and for the upcoming spring. We highly recommend this winterizer service as part of your regular treatment program to provide your lawn with a quick recovery from the winter and to optimize grass health.