Weeds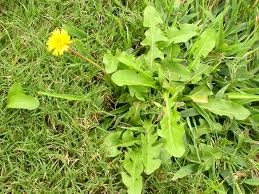 With the warmer weather in full swing, you're likely seeing weeds cropping up in your lawn. Unwelcome weeds love to creep in and help themselves to the water and nutrients you're trying to give your lawn. Once they've staked their claim on your yard, it can be very difficult to take back the territory. There are several types of weeds that occur at different times of the year. Your best weapon is Green Pointe Lawn Care's annual treatment program. Our annual treatment programs provide, spring pre-emergent crabgrass & spurge control, broadleaf weed control, balanced fertilizer applications and free consultation and service calls to address problems you may have. Each treatment is applied on a regular basis at approximately 5 – 7 week intervals.
Different variety of weeds emerge at different times of the year, dandelions and henbit in the spring, ground ivy and mallow begin in late spring, morning glory and oxalis in the summer months. The weeds continue to grow and become healthier and stronger throughout the growing season. Treating the weeds, along with fertilizing to thicken the lawn on a regular schedule is your best defense. Typically for every one year the weeds go untreated, it takes two years of treatment to eliminate the larger weeds and gain control of the invaders.
Listed below are some examples of very difficult to control invaders in your lawn.
Crabgrass: This course, spiky grass like weed starts out in early summer as light green patches, as the summer moves in, the crabgrass plant becomes unsightly and firmly established. Crabgrass is an annual grass/weed and control treatments of pre-emergent crabgrass control must be applied in the early spring to provide prevention later in the summer when emerges. Remember, crabgrass control begins as a preventive treatment prior to summer invasions. Green Pointe crabgrass pre-emergent control treatments are included as part of our annual treatment program and applied as part of our early spring treatment. There are limited control measures after crabgrass has emerged, pulling or digging it out by hand and being sure to catch the lawn clippings to prevent the spreading of seeds is the most effective control measure after it has become established. (Mulching the clipping spreads the seeds.) A continuing spring treatment program with pre-emergent weed control, coupled with proper fertilization is the best method to gain control. A well-fertilized lawn is helpful in preventing crabgrass, as healthier grass means more competition for the crabgrass.
Morning Glory: This sweet little white or pink flower may look like something you could live with in your garden, but in a lawn it's a different story. One of the most difficult weeds to control, this plant can climb over shrubs and other plants, choking out and robbing water and nutrients from plants and grasses. The reason it can be so difficult to eradicate is its root system: Morning glory roots can extend up to twenty feet. In order to help gain some control the existing morning glory in your yard, continuing weed control treatments are necessary. Even with regular treatments morning glory can rarely be eliminated. Keeping your planting areas and other areas adjacent to your lawn is imperative. Mowing at 2 ½ – 3.0 inches is beneficial as thicker lawns provide competition and retards encroachment. Continuing weed control treatments, coupled with higher mowing and keeping the beds and planting areas free of morning glory are the most effective means to help suppress this nasty invader. Late fall weed control treatments, after the plant has flowered, can also be very helpful.
Oxalis: This weed looks like purple clover and usually has yellow flowers later in the season. This is almost as difficult to control as morning glory once it gets a foothold. Spring pre-emergent treatments and continual broadleaf weed control treatments after it emerges are needed. When the plant begins to mature and develop seed heads, it can "spit" seeds up to 10 feet. It is important to keep beds and planting areas clear of oxalis to help prevent the oxalis from invading the lawn and other areas due to "spitting" seeds. Mowing high and catching the clippings, coupled with regular treatments are the best control methods. Once you notice a small amount of oxalis, it is very important you begin a thorough treatment regimen to stop the spread of this weed.